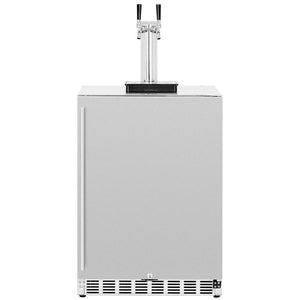 Summerset Double Tap Kegerator, SSRFR-24DK2
100
Summerset Grills
Regular price $2,999.00 Sale
Double Tap Kegerator
Bring the fun to your backyard with a huge 6.6 ft 3 capacity of cold storage and double tap, UL-Rated for outdoor use, #304 stainless steel construction, locking door, and front side venting.
Summerset 6.6 Cube UL Kegerator W/Double Tap Features
Bring the party to your outdoor space with the Summerset UL Kegerator w/Double Tap, and win the bragging rights in your neighborhood. With a stout 6.6 cubic feet of cold storage and ample space for multiple options of drinks servable over two separate taps, this is not your grandpa's wet bar. Built and engineered to last, it offers commercial features like durable #304 stainless steel construction, UL-Rated for outdoor use, front side venting, adjustable legs for leveling, and limited lifetime warranty. Also designed to look great with pristine lines and form, this appliance seamlessly integrates with other Summerset components for a sleek, built-in appearance. The locking door, sealed back, and temperature control keeps your cold storage energy efficient and your kegs hidden, chilled, secure from pests and children, and safe from the elements. Whether it is for a Super Bowl party, New Year's Eve bash or any other get together, the Summerset UL  Kegerator w/Double Tap delivers ice-cold refreshment with high-end style.